August 12, 2015
MCMC Retail Internet of Things (IoT) and Payment Seminar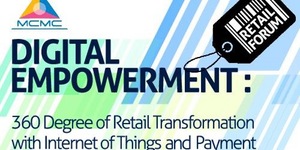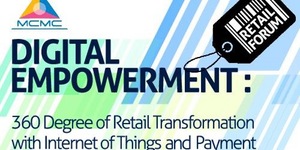 Digital Empowerment: 360° of Retail transformation with Internet of Things and Payment
Venue : Ixora Hotel Prai, Penang
Jalan Baru, Bandar Perai Jaya
13600 Perai, Penang
Malaysia.
Date : 17th August 2015
Time : 8.30am – 5.30pm
The objective of this seminar is to promote awareness and showcase how digital empowerment adopting Internet of Things can transform a brick and mortar retail business into a 360° view of their customers, insights of their behavior and e-Payment solutions.
Industry experts shall share and facilitate the latest updates and developments in the retail industry as well as the benefits, challenges, and costs in boosting their brands, sales, better business decision, e-Payment solutions and provide customer with seamless experience in the new digital lifestyle.
The experts will showcase demo on smart retail application on your smart phone, efficient e-Payment solution, location based info/indoor analytics, big data analytics, how video analytics and contextual information that can help drive retail bottom line as well providing a new shopping experience and engaging to your customers and a better retailer's in-house management.
The forum is also a great platform for networking with key retail market adopters and retailers, manufacturers/suppliers, telcos, vendors, system integrators and regulators.
Admission is free of charge, kindly register at http://tinyurl.com/MCMCIoTPenang15
For further information, kindly email us at DLMreg@cmc.gov.my or Jasmin +603 8688 8405/8000.